East Side Story
This past weekend marked the third anniversary of the
East Austin Studio Tour
. With 86 studios involved in this year's tour, I tagged along with my
Screamer design
friends for the two-day revelry.
Our weekend began with a stop at the east-side swank spot
Peacock Lounge.
This small cocktail bar's décor oozes with old world charm and retro-ornate elegance, as if all interior pieces were picked up at Old Lady Dinsmoor's Paradiso Perduto estate sale. Stop in and order a Lone Star or Tail-feather – a Peacock specialty – and mingle with the hipsters and decedent zombies in their east-side late-night playground.
What is the Peacock not trendy enough for, you ask? "Pabst Blue Ribbon" says one bartender/co-owner. "I've had people come in and ask for it. I mean the only reason anyone should drink PBR is if it's free… maybe." Outside the Peacock, you'll find live music, dogs, bikes and beer - reoccurring weekend themes – and dancing in the street for those who felt so inclined.
After a good dose of the Peacock's lavish costume-jewelry appeal, we rounded up the troops for destination number two:
Progress Coffee
. Bicycles and Vespas lined the café walls in celebration of Progress's second anniversary, and the celebratory guest performer was none other than the printmaker/musical prodigy, cool-guy Scott Hanson. This visionary double-threat goes by the names
iso50
(the screen printer), and
tycho
(the master of electronic sound).
Projected onto two screens were psychedelic arrangements combining 70's-style line prints and dreamy feel-good images of birds, trees and beautiful women. Nothing this guy does is unimpressive - including photos, clothing and his new album Past is Prolouge – and all of it is available
here
at my personal registry.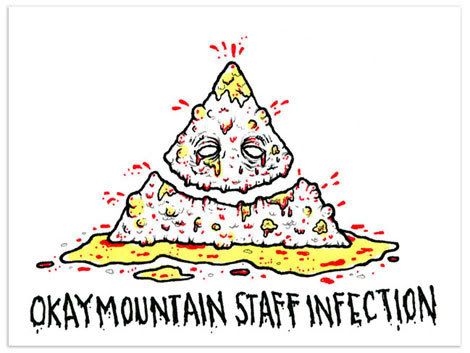 Designer
Michael Sieben
Stop number three on our tour de east side was the
Okay Mountain
gallery – a personal favorite. Their exhibit Staff Infection showcased works from the eight individual artists that are Okay Mountain. The OKMT fiesta continued on Sunday with backyard grillin' and a free show.
Smoke Detector – a simple ditty duo - started things off with their catchy unconventional lyrics about dirty laundry. The group members include Okay Mountain staff member Josh Rios and his sweet-singing counterpart. She read an unusual
story
by Leonora Carrington about a discontent debutante and her friend, the flesh-eating hyena and they finished off their set with an interesting rendition of Prince's
Darling Nikki
. We were all grinding.

Designer
Masemandesign
Ponieheart,
the humble songster from Birmingham, was next to brave the stage. If you missed his Austin opening for Bonnie Prince Billy, you were in for a pleasant surprise. He offered endearing explanations for why he goes by Ponieheart (birth-given Paul Fugazzotto II doesn't seem market-friendly) and why he's not saying 'grease pancake' (when he's singing about his favorite author, Brees Pancake).
In other news, the Dixie Chicks and Mel Gibson are officially free of America's spotlight of persecution. Congratulations to Seinfeld funny man Michael Richards who now holds the sepulcher of anti-Americanism and unpatriotic evil.