Let's Make Like a Rock and Roll
A few weekends ago, Mason and I decided to cure our dance fever at South Congress's rockabilly hotspot, the
Continental Club
. The CC is notorious for its bad-boy, burlesque background, and it still oozes with the American hot rod vintage culture of the late 50s and early 60s. As soon as you step foot inside the door, you enter an otherwise forgotten world of boogie-woogie rock n' roll – which is endearing, considering that the music and culture of rockabilly has somewhat defied the odds in its American progression. For the most part, it has managed to escape big-business homogenization and stay true to itself.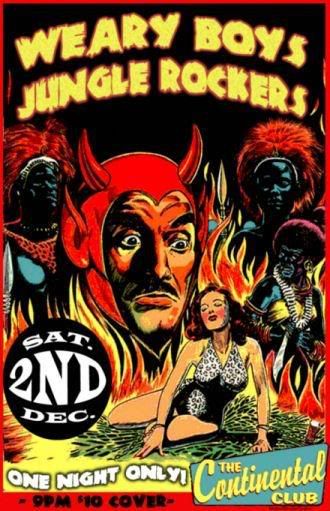 We started off swingin' to the high energy/heavy twist beat of Austin's
The Jungle Rockers
. The slap bass and fast picking of these greased-up slicked-back rockers set fire to our dancing feet. Pompadours were bopping around the dance floor – a whole lotta shakin going on.
The Weary Boys
were next to take the stage, and seemed to draw a sizable crowd of loyal fans. The crazy-haired fella is fiddler phenom Brian Salvi. My goofy friend Greg looks strikingly similar to Salvi, but lacks the crazy nest-head hair and bluegrass twang. I wonder if Brian also talks like Huckleberry Hound and shares Greg's fascination with old school
Twin Peaks
episodes. My mind wanders…..
Check out The Weary Boys on
myspace
to sample some tracks from their new album
Jumplin' Jolie
.