A Mad Tea-Party
The holiday season doesn't have to allude to fruitcakes, ugly sweaters and stuffy parties. This was exemplified at the
Screamer Design
Holiday party. An eclectic sampling of Austin's creative minds – both young and old – stopped by the Screamer studio to join in the reindeer games.
Festivities included live music from
It Was Divine Justice
and
Empty Phantom
as well as the opportunity to work on a collaborative painting. It was also the launch of the Screamer design team's black and white zine project. The prototype issue,
"Zero"
features submissions from local artists, writers and creative minds based on their personal interpretations of 'zero.'
A large canvas hanging outside the studio was blank when I arrived. Paints of every color and brushes of every size stared up anxiously at the blank space, begging to be used. Initially, partygoers stood at a distance and studied the white space cautiously, as if it were a strange species of some undiscovered form of revelry. Some seemed frightened by the immensity of the blankness and the possibility of chaos and creation that may be induced. This didn't last long. Once the first drop of color braved the canvas, the creating began. For several hours, artists, hipsters, friends and family exercised their right to slap some paint around. As the party dwindled and the crowds parted, what we found was this collaborative Lovechild: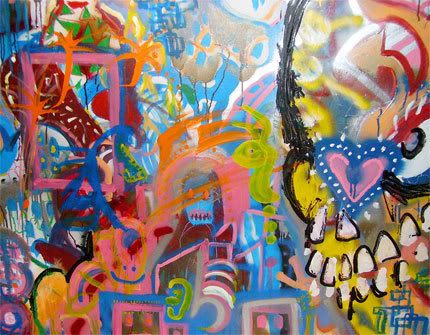 (Much larger in real life. Massive, actually.)
The
muchness
of this painting may be best described by a quote from the narcoleptic Dormouse in Alice's rabbit-hole adventures…
"They drew all manner of things – everything that begins with an M, such as mouse-traps, and the moon, and memory, and muchness – you know you say things are 'much of a muchness' – did you ever see such a thing as a drawing of a muchness!"
Keep your ears to the ground for the next Screamer shindig, and your eyes peeled for the next edition of the Screamer zine, "One."