Alien Beings with Human Faces
The third and conclusive installation of the
Okay Mountain
gallery's No American Talent Series opened April 21. The completion of the trilogy featured artist Basim Magdy of Cairo, Egypt, with curator Regine Basha. (I still am unsure as to the genius of this collaborative operation – which effort was the brains and which the brawns.) As a student of anthropology, I could dream of no more grandiose finale than
The Common Deceit of Reality
.
"Mud Pools and How We Got Ourselves to Look for Big Foot Heaven"
Walking into the doors of the OKMT gallery, I was surprised by the absence of white wall space, which had been replaced by wrapped storyline text. The familiar simple, stained cement beneath my feet was replaced with layers of fresh bark mulch, and a lone pop-up illuminated camper, of all things. The gallery invaded my nose with the woodsy reminiscent smell of Girl Scout camp, Bunsen burners and family summers spent wandering Michigan's remote northern trails.
The lime green sans-serif font that stretched across the gallery walls told a story of 'Little Bigfoot' – who was at once a tragic and friendly character. A scratchy transistor radio inside the camper whistled played-out favorites of our middle aged counterparts. Other human 'necessities' accumulated in the small, netted space included ceramic dish ware, bottled water and wood-paneled comforts of our linoleum homes. Little Bigfoot himself was lifelessly slumped over the foldout table with a poisoned dart lodged into his broad back of matted black costume fur.
I beg to pose the question that Basim Magdy intentionally put forth:
Is Little Bigfoot the childhood plush fantasy character, the burdened victim of progress and greater evolution or the heroic emblem of hindsight realization?
It was Darwin in
The Origin of Species
who attempted a new, daring approach to science by applying the old questions of evolution to new biological questions of science and self. A Darwinian of his in his own trade, Magdy attempts to alter our objective realities about our own culture and history. He forces us to question ethnocentrism, and our alignment with it.
"In the Grave of Intergalactic Utopia"*
This confined space traveler was displayed in the yard of the OKMT gallery, and posed a powerful argument supporting the Bigfoot installation. Our 'most evolved' symbol of man was caged like a circus animal with water bowls for lapping and a bag peanuts for nibbling – while just a few feet away, man's supposed 'least evolved' symbol was in air conditioning with access to a gas grill and Ozarka. *This was also a seminal public piece shown during previous exhibition at New York's Newman Popiashvili Gallery.
In modern urban existence, aliens are all around us – in perception if not in reality. The very meaning of the word 'alien' now even includes 'creature from outer space.' Surrounded by hay bales and hipsters, our astronaut slumped like a zoo primate, and there were no wide-eyed children there to poke and prod, just the jaded wonderment of 'see and be scene' and how many beers until a floated keg.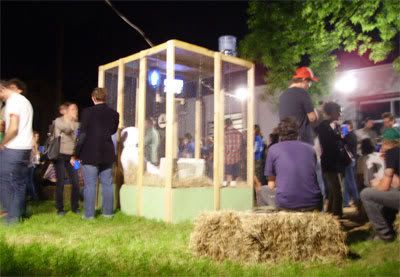 Lucky for me, the opening was also an editorial event. The opening doubled as the launch of the May/June issue of
ART PAPERS
. Editor-in-chief Sylvie Fortin was in attendance, and the most recent issue features a 6-page spread designed by Basim Magdy. This publication is unlike anything you will find on your newsstand – or rather, unlike anything conventional. Its subject content and layout are uniquely and aesthetically organized, and most of all (I am grinning from ear to ear) – it is fascinatingly well written. Thank you, ART PAPERS.
No American Talent 3 : Basim Magdy - The Common Deceit of Reality
will show through May 26. Throw your ways into a larger context. Expand your knowledge.
Later that night, we decided that we hadn't gotten our fill of space creatures and wonderment, so we swung by
The Blue Genie
on rumors of a mock-up spaceship. This was Apollo – Austin art style.
Any chance I get to make hand puppets…
The fog machine was out of control – VERY realistic
Not sure about this one, but it was pretty intense
Then finally, we relaxed with some warm
Tito's
and cranberry for some transvestite belly dancing and a thrilling performance by
Foot Patrol
. If you haven't heard them, you should check out their album,
Toetry in Motion
, which features such catchy tunes as 'Footography,' 'Agony of DeFeet' and – true to the night's theme – 'Big Foot.'
*The 'girl' on your right was in fact not.
I had a real 'crying game' moment with this one.
Just another Saturday night. Ah, my friends, this is Austin entertainment at its finest.
Labels: alien, basim magdy, bigfoot, blue genie, darwin, foot patrol, Okay Mountain