Shelter from the [Ice] Storm
Here in the Lone Star State, we pride ourselves on being of a tough cowboy variety. We hunt, shoot, fish, ranch, ride, rope, and rodeo. We drown our food in butter and our sorrows in whiskey, but when we see a little 'wintry mix' come our way, we carry on like a bunch of suburban mothers in the eve of Y2K.
Although I only work a short while north of where I stay, it was not required that I report to the office for three consecutive days, for fear of the treacherous commute. My humble employer believed it was in both of our interests to work from home until the ice melted, so that's what I was doing… working. Working on transcribing interviews and organizing the magazine, yes – but also working on catching up on my much-needed rest, working on laundry, working on getting through several books, and working on getting my creative juices flowing. (All of which are beneficial for both my personal wellbeing, and that of the company.)
McSweeney's
Much of my ice-induced literary focus was directed toward a publication called
McSweeney's
Quarterly Concern
. Averaging at 300 pages per issue, these hardcover journal collections take readers through captivating fictional scenarios. Amazingly fantastic things happen in McSweeney's whimsical world. A man marries a tree, pointless wars are fought and lost, a love relation of imperfect proportions develops and thrives, entire secular histories are created and destructed, and young girls come to defy masculine authority.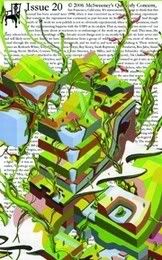 Issue 20
As if this weren't enough, the independent Bay Area-based editor has placed a full-color illustration of brilliance on every fourth page – each by amazing artists, and each enhancing the reader's experience. The Quarterly Concern is a refreshing twist on literary publication, and it's sure to bring you more colorful surprises than LeVar Burton's PBS theatrics.
Retreat
Speaking of colorful surprises, several may currently be found hanging on the white walls of Austin's
Women & Their Work Gallery
. For nearly 30 years, Women & Their Work has functioned as a statewide non-profit organization celebrating the beauty and strength of contemporary art and feminism.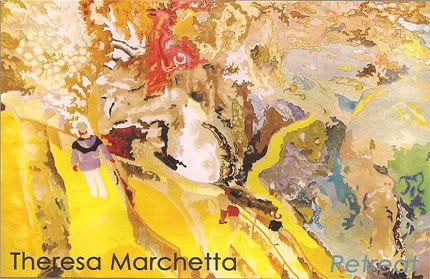 Until February 17, the gallery will host
Retreat
, which features the amazing work of
Theresa Marchetta
. To create her large-scale masterpieces, Marchetta pours pigmented acrylic and wax to capture colorful abstract interpretations of the faraway and the familiar. Unbelievable stuff, really.
No American Talent
The guys over at
Okay Mountain
kicked off their
No American Talent
series this month with Argentinean artist, Benito Laren.
No American Talent
– a spoof on Arthouse's
New American Talent
- is a three-part series of exhibitions showcasing work from artists in countries other than the 50 great states. Most of Laren's work looked like it was made in the technological period of the early Windows 'Paint' program, and it shared the radical neon simplicity of the '80s peg toy,
Lite-Brite
.
It was Laren himself who captivated my attention for the majority of the evening. I wasn't sure if he was wearing a toupee, a full-on wig, or if he was aware of exactly how much 'it' looked like a gray, matted Himalayan. He was poised, quirky, and full of energy – active, excited eyes behind over sized, tinted transitions lenses. (
Tony LaRussa
take note: inside/outside single-lens convenience will never be fashionably appropriate.) Laren was an effusive character as well - delighted to speak with any audience, whether they responded or even understood.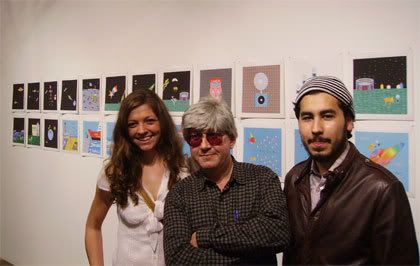 Riding on my friend Aldo's fluency en Espanol, I managed to stick around for the better part of a conversation. Laren was sharing a collection of personal photos, which seemed to share little relevance to one another in terms of characters, symbolism, or even time period. I would like to believe that he was sharing some great wisdom of chemistry and war, love and expression, but I kept hearing the word
thong
. Every time he would point at a picture of a woman, he would say
thong
, and laugh. There were quite a few women in his picture collection, and as it turns out, Benito did a stint in undergarment advertising some years ago. The pixilated thongs in Laren's pieces – a blatantly recurring theme – bore striking similarity to those oddly shaped Tetris blocks in Atari backgrounds. Lite-Brite, like I said.
SXSW 2007
Finally, some long-awaited leakage from SXSW. We're about a month into the new year, and still no official word about the line-up. Well, the SXSW folks have played hide the salami with the anticipated news for too long. Yesterday, the Austinist posted 340 performers in an unofficial
band list
. It's not a complete list by any means, but it's enough to get your blood pumping.
Labels: Austin art, McSweeneys, Okay Mountain, SXSW