Arts in Images
Frequently persecuted for my excessive elaboration, I have decided to try a new approach of relaying information. These recent art-related happenings will be explained by images, with as little description as I can endure.
Smile Forever
Michael Sieben
recently had a solo show at Austin's
Art Palace
. Sieben blogged about it on
fecalface,
and well, he's a funny guy, so you should check it out.
Yeah. We were on the East Side, what did you expect? Art Palace is conveniently snuggled among piñata shops and taquerias. Good times had by all.
Scream Team
My friends at
Screamer Design
decided it was time for another bash, and bash it was, complete with good foods, great drinks, an eclectic array of musical entertainment and their ever-popular signature sideshow, artwork for all. This time there were two canvases and enough spray cans to cover the Brooklyn subway system in tags. Brushes, stencils and every color in Jesus's dreamcoat lined the wall, anxious to fulfill the purpose of their existence as the medium of choice in utilization of free artistic expression. Austin art celebrities, street artists and amateurs laid their mark on the canvases for hours on end. By the time the night waned into early morning, we were hard-pressed to find an unused artifact in the lot.
Mason and I celebrating graffiti activism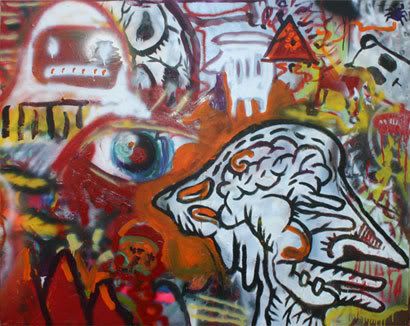 Disclaimer
: Hours of margaritas and paint fumes should get some credit for some of the unrestrained creativity, never-before seen/experimental palettes and free-form (sloppy) execution.
Art Outside
Art Outside is becoming somewhat of a South Austin tradition. The
Enchanted Forest
hugs the corner of Oltorf and S Lamar, and it is a natural playground for artists, musicians, hippies and freaks to exercise their right to… well whatever they want in the shade of endless oak tress and the comfort of the cripple creek. Although Halloween draws the largest crowd, Art Outside is a little more – if I may – 'conventional.' It's a time for artists of any interest from any place to come, camp and display their work for a few weeks on the forest's gallery walls. We stopped by for our annual indulgence.
Bill and Mason showed their work next to each other a few years back. Bill comes down from Witchita Falls, KS. Bill's a real great guy.
That's the jolly green paper mache monster that greeted us as we entered the forest.
If you ever cross paths with a jolly green paper mache monster, how are you NOT going to ride it? I, for one, couldn't restrain myself.
So, because I withheld my inherent desire to bestow words of attempted thoughtful wisdom on you friends, I will allow the great English poet, Wallace Stevens do so instead.
The paramount relation between poetry and painting today, between modern man and modern art, is simply this: that in an age in which disbelief is so profoundly prevalent or, if not disbelief, indifference to questions of belief, poetry and painting, and

the arts in general, are, in their measure, a compensation for what has been lost
. -Wallace Stevens