All who wander ...
It's a strange thing—documenting life. When there's not much going on (or just enough) it's easy to stop and think, and write, and share. Likewise, when life takes you by storm, there's barely time to be scared, thoughtful or reflective. Not to worry though, because as heavy and incessant as life's storm has been, I've managed to find time to dance in the rain and swim in the flood. I'm sitting now in the Austin airport, and I've caught an unexpected break. My flight, which I—by all standards (and clocks)—would have been late for, is delayed. Ironic that the impending thunderstorm, of the most literal kind, is the shelter in which I finally find time to reflect. Life never ceases to amaze me.
I'll take you back. Far back before the cease flood, to where I last visited with you friends. Back to where life's recent adventures began.
For starters, got a cat. Cat's name is Jack. Jack the cat.
Isn't he handsome? If Jack were to sing, I believe he would croon like Frank Sinatra in melodic serenades. Even at 5 years young, he is such a man, and so aloof. Maybe a Nat King Cole type. Maybe a Rat Pack/Jersey Boy personality. I am positive that Jack's reincarnated character could be found in a high-rollers lounge surrounded by beautiful, elegant women sitting in a cloud of smoke from his ghastly-overpriced imported cigar.
Seeing as I believe that my previous life transpired as a tambourine-shakin, hip-swingin background singer for Chuck, Ray, Otis or Aretha … I think Jack and I will get on just dandy. We make a swell pair. Just walkin hand in hand to a barbecue stand, walkin my baby back home.
Fecal Face Show
A good while back, the cool kids from SF blew in and set up a killer show here in our Texas town. Naturally, we checked out the opening of the
Fecal Face
show at
Okay Mountain
. Great turnout. Great artwork. Great live music by
Tim Kerr's
band, If Bricks had Wings. Good times.
I met John Trippe (mastermind behind the SF entity that is fecal face dot com) and his adorable fiancé, Jessica. The eastside evening culminated as it often does at the Scoot Inn for more good music and even more carousing. Trippe covered the opening
here
on his final day of Austin chronicling. Austin celebretard, Fancy pants Armstrong, rode a double-decker bike, and we even made a little cameo. Check it.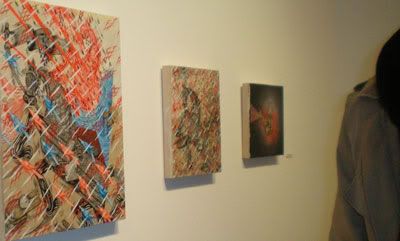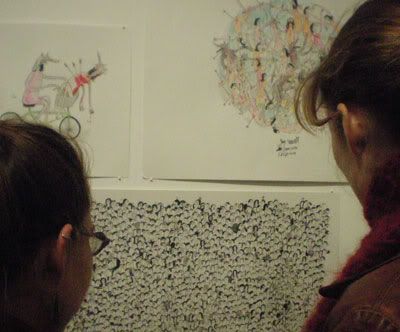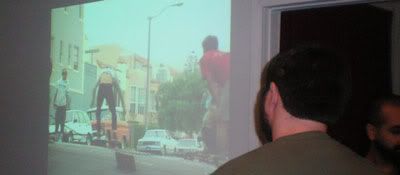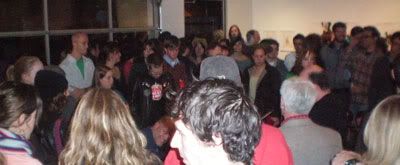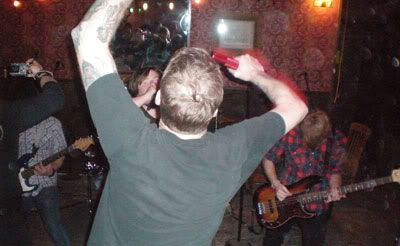 Not My First Rodeo
Once a year something strange, consuming and wonderful falls upon the otherwise unrivaled port city of Houston. The Reliant Center fills with Texans of another sort. The saddle-carrying, chaps-wearing, livestock-wrangling, Marlboro man sort. From the cook-off kick-off to the extreme bulls finals, the nation's fourth largest city bows to the festival of FFA and funnel cakes. As I do every year at this time, I put on my cowgirl duds for a little two-steppin, whisky-drinkin and BBQ-eatin at the Houston Livestock Show and Rodeo.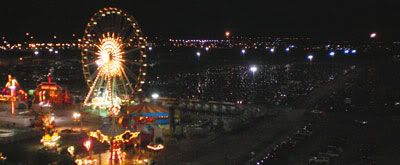 SXSW 2008
And then there was South By Southwest. Translation: Two weeks of extreme partiness for those Austinites, hipsters, industry folk, and wayfaring travelers who are so inclined. I could go on forever about this year's south by shenanigans, so I'll just give you a glimpse.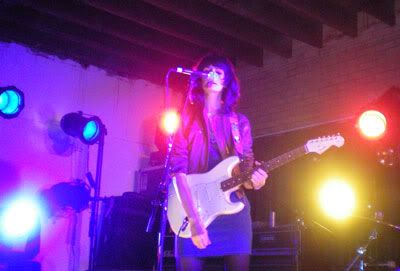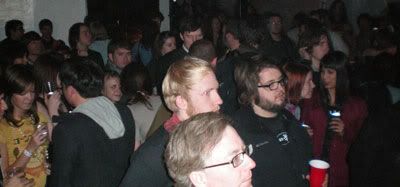 Caught Austin's own
Black Before Red
outside of B.D. Riley's. Super nice guys.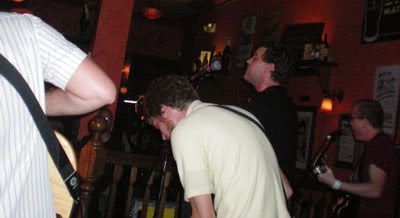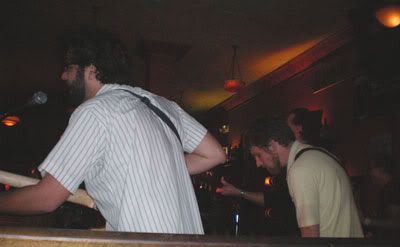 Stopped in to catch Herman Dune—and the puppet makes three—in a furniture shop downtown where my adorably well-intended friend (who shall remain nameless) inadvertently overturned her Ziegenbach all over a $3500.00 orange contemporary deco couch.
Hoots and Hellmouth
are a group of dudes from my home state of Pennsylvania with lots of energy and lots of hair. Great performance. Though I don't often use the word "jig," I find it applicable in describing this show as a gig you can jig to.
[
personal disclaimer: the use of jig in this context is intended to refer to the carefree roll-your-trousers-up, clap and stomp, grab your partner do-si-do action, which is in no way related to alternate lame uses of the word such as 'getting jiggy wit it,' of which you will never—mark my words—ever read on my little green piece of the world wide interweb.
]
Saw
Sea wolf
Saturday night. Short set after a long day, but great tunes.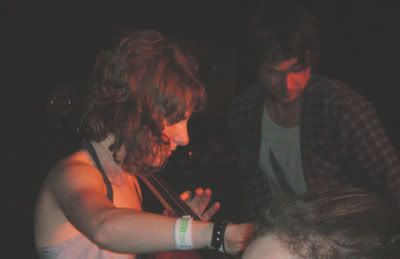 Other highlights include a great little show by Tift Merritt in the cozy courtyard of SoCo's San Jose Hotel, an eastside late-night Blender party, some great shows and lots of scotch on the top of a downtown parking garage, Pink Nasty and other great groups at the the PureVolume Ranch, Talib Kweli at Auditorium Shores, and so many other great moments. Can't wait for South by to come by next year.
I Love Lucy
I fed some of my anthropological obsessions and curiosities of humanity at the Houston Museum of Natural Science's
Lucy Exhibition
.
This was a pretty big deal, seeing as how the exhibit holds bragging rights as the first-ever display of the 3.2 million year old hominid that holds our greatest key to humanity's history. She was discovered (or uncovered) back in 1974 by two fossil finders on their way to an end-of-ethiopian-day party. These must have been some pretty hip dudes, because their track of choice at the evening's shindig was
Lucy in the Sky of Diamonds
, hence the name given to our little ancestral lady.
Exhibit visitors got schooled in Ethiopian history, toolmaking traditions, continental drift, Rastafarianism, theories of evolution, and several other components of what we'll call archaelogistics.
I had somewhat of a personal revelation when I saw the full-scale rendition of Lucy Lu. You see, when I was a little tyke, I found it odd that my second toe was the slightest bit longer that my big toe. In fact, I was so puzzled by this, and the fact that my sister's toes were of normal length progression, that I conceived my own childhood conspiracy theory that I must have been adopted. As it turns out, Lucy shares the same second-toe syndrome. This tells me one of two things: Either Lucy is my estranged biological sister, or I'm a damn good tree-climber.
My mom's fiancé, Mark, happens to be rather educated in the area of dentistry, that being his livelihood and all, and he validated the similarities of the supposed pre- and post-evolved jaw structures and placement of the teeth (those of which were uncovered). He also managed to get in some of the expected dentist-like comments about the seemingly healthy state of Lucy's preserved teeth versus that of today's patients—the culprit being the constant intake of sugars in modern man's diet. Needless to say we didn't stop for any gelato or coke floats on the way home.
Lucy will be on display until April 27. If you can make it to Houston, I suggest checkin her out before the protesting financially-influential conservatives who reject scientific theory ship her back to Ethipoia, and the back of their minds. No cameras were allowed in the exhibit, so the images above can be credited "Courtesy of the Houston Museum of Natural Science" ... ethical and plagiaristic legalities covered? Check.

Tycho at the Mohawk
If you're a faithful canyon compadre, you may recall a
long-ago post
from a
Tycho
show at Progress Coffee during the '06 East Austin Studio Tour, shortly after I moved to Austin. Since then, I've been keeping up with the mastermind who is Scott Hansen, and he's been up to some pretty neat stuff … definitely worth your while to stop by his
iso50 blog
.
He's kind of a techie freak, but he's a genius, and he's been quite a jet setter lately. I recommend checkin out his
trip to Tokyo
. He's got some serious skills behind the lens, and is absurdly inept at capturing moments and character. Also, as we experienced at the Mohawk, he's pretty damn good at creating funky, feel-good music.

Etcetera
In the midst of all this, there's been some hill country travel, hammocking, birthday and engagement celebrations, karaoke, bike rides, and lazy days in the sunshine. You know how it goes, a little bit of this and a little bit of that.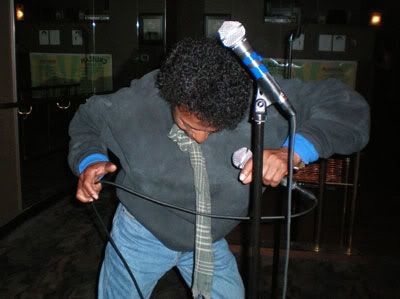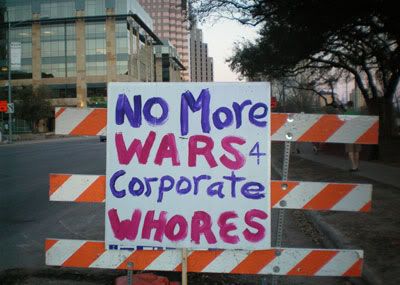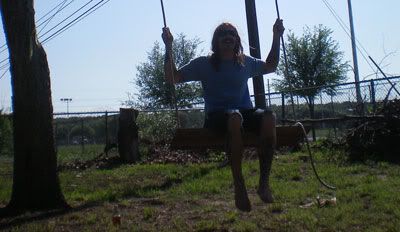 I just returned from a glorious visit to Northern California's Bay City and wine country. Came back just in time to catch Feist at Stubbs Tuesday night. Much more to share, so stay tuned, and keep on keepin on.
Labels: anthropology, Ethiopia, evolution, fecal face, Feist, Herman Dune, Houston, iso50, jig, Lucy, Okay Mountain, Rodeo, Scoot Inn, Sinatra, sunshine, SXSW, Tim Kerr, Tycho, Ziegenbach