Give Me Botany or Give Me Death
Liberty. Justice. Patriotism. The American Way. Disneyland? No my friends, Washington, DC. Our nation's capital is the perfect getaway for every American. New generations of families can discover their roots, explore their heritage and demonstrate their pride for the red white and blue. History buffs of all ages can indulge in countless rich cultural institutions. Veterans, expats and families of fallen soldiers can celebrate and mourn the victorious massacres of our forefathers at a slew of remembrance memorials.
Why was I in historical DC? One of my favorite people in the world was turning 24. She happens to live in Capital South, only a short stroll across the White House lawn from anything you want to know about the US of A. With so many museums to choose from, I opted against the Holocaust Memorial and the Naval Museum and spent a day with the flowers.
The United States Botanic Garden
is a conservatory within the National Garden, referred to by religious conservatives and republicans as "Eden on the Mall." Other highlights of the National Garden include an amphitheater, rose garden, butterfly garden and the First Ladies Water Garden. If you visit before Oct. 9, you can catch "Art in the Garden," an installation exhibit featuring one of my personal favs, the glass master
Dale Chihuly
.
The conservatory itself was a splendid experience, that is until I attempted to light a cigarette and was immediately taken down, tased and persecuted by a horde of clean air lobbyists and smoke-free enforcers.
Truth? This place was a landscaper's guilty pleasure, and though I've never demonstrated much skill or success as a green thumb, when I walked in those doors, I was like a holy person in Jerusalem. This was my own personal Breakfast at Tiffany's moment, and I reveled in it. Countless rooms of horticulture mazed through the glass dome, each one different in color, climate and fragrance. With over 25,000 plants from across the world, we walked from jungle canopies to desert grasses to meditative gardens and beyond.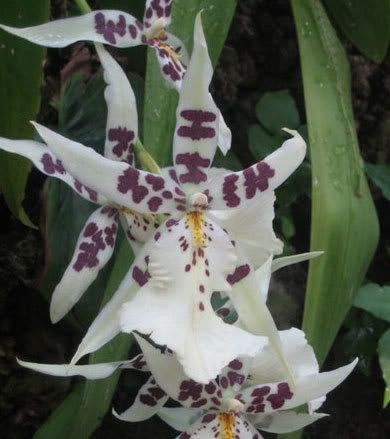 The orchid room was, in itself, a work of art. Always changing and everblooming, each exotic flower was meticulously unique. A several month time lapse of this room would convince even the most stoic observer of the vitality and complexity of these mythic plants.
The USBG boasts about the extensive and diverse components of its plant collection, and of the services these plants provide for the American people … economic, therapeutic, medicinal …
We found this in the grasses area. Supposedly it's a South African cactus, somehow related to aloe (probably due to its medicinal uses). Did I mention that the USBG also serves as a 'rescue' center for plants confiscated at U.S. borders? (ahem)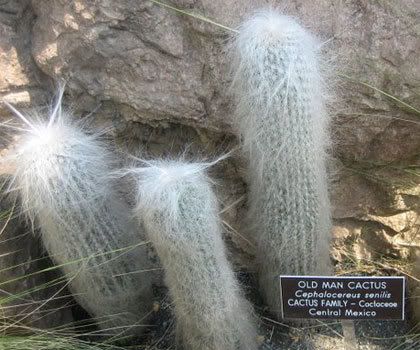 Also among the so-called succulents, I found these three old men. I'm pretty sure these old fellas were supposed to be in the Rare and Endangered area, but I wouldn't say it to their face. Misplaced? Possibly. They told me I don't know how easy I have it, and that when they were my age, they had to roll to school in the scalding hot sand uphill both ways.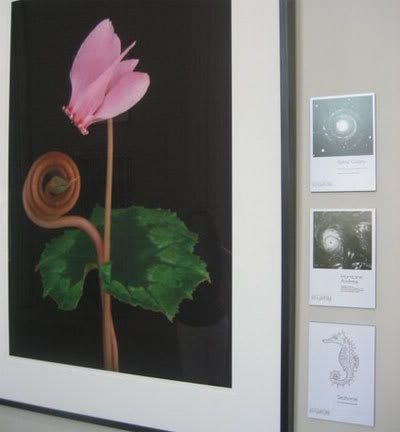 A temporary exhibit showcasing botanical photographs by
Amy Lamb
was hanging in the West Orangerie–one of three galleries in the conservatory. Appropriately titled "Patterns in Nature," the exhibit compared pattern similarities in Lamb's photographed plant life to those in other natural beings, for example, an orchid to a dragonfly, and a fern leaf to the geographical representation of the Mississippi delta (which I found to be a bit of a stretch).
In the image above, she attempts to liken this Cyclamen (a Cyclamen liken, if you will) to a NOAA image of Hurricane Andrew and a sketched seahorse–likely submitted by her 5-year old niece or a local pre-K art class … I'm talking intricate.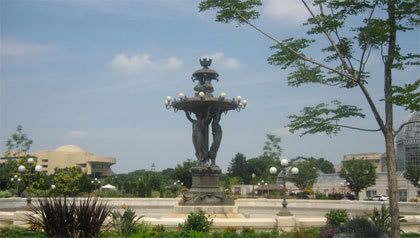 The waterless fountain in Bartholdi Park was under reconstruction. I'm assuming, because it is a fountain, that it usually has water, but then again I would merely be assuming. The brownish building behind and to the left of this not-so-secret garden is the
National Museum of the American Indian
on National Mall. We didn't go inside, though, because I have a gambling problem. Lead me not into temptation. I think Mohammed Ali said that. Or maybe it was Walt Disney.
Labels: America, Amy Lamb, Botanic, Cactus, Dale Chihuly, Disney, Eden, Garden, Orchid, Washington