the stuff dreams are made of
Far from the days of hoola-hoops, Popples and ballet skirts, my favorite things–in the tangible sense of want and love–are no longer
things
. I'm certain it has always been happiness that I wish for, but after several years of birthday candles and letters to Santa, the things I long for and truly cherish won't be found in a dusty box beneath trapper keepers and cassette tapes.
Finding solace from the hustle and bustle of the bar scenes and city streets in the corner of your favorite funky coffee shop … Time spent with the ones you love, your closest friends, your family and all the people who know your dreams and make life real … The coolness factor of being privy to a small, personal performance by one of those somehow still undiscovered musicians that, in any given number of months, you will boast to your friends standing shoulder to shoulder in the back of an overcrowded venue, "Yeah, but I saw them when…" … A room full of contemporary, colorful artwork for you to study, enjoy and admire for hours, never once thinking that you've seen this before, or wishing for it to be any different.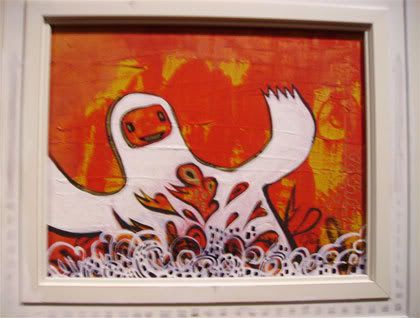 All those things, those favorites, are what remind you how big even the smallest moments can be and how hungry your soul is. They make you think that maybe David really
did
defeat Goliath, and maybe love
could
make the world go 'round…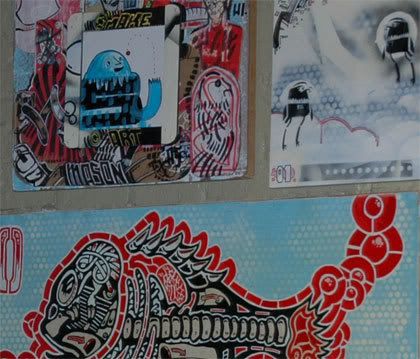 This is the stuff that dreams are made of, and for one night, for one great night, with all of my favorites in one place at one time, we celebrated these things of our dreams.
July 12 was the opening reception of
Dreams Are Made of These
, a month-long display of work by Austin-artist,
Mason McFee
. Wine, friends, food and live music were all on the menu at
The Hideout
, an inconspicuous coffee house/theatre turned gallery hidden among stores, restaurants and hotels that line Congress Avenue in the heart of downtown Austin.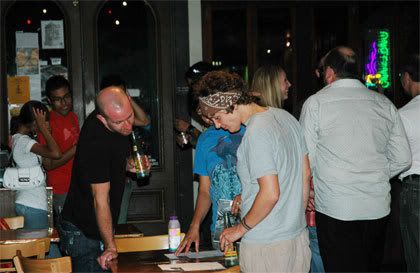 Old friends and many new faces escaped reality for one evening to take a glimpse into Maseman's dreamland. A ghost? An alien? A Russian nun? Maseman is the brainchild of
this
contemporary artist–a character of life and imagination.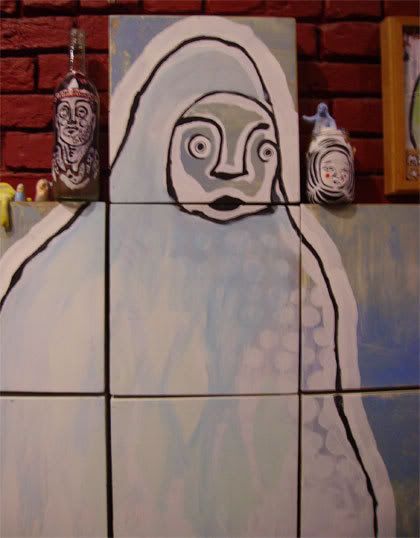 On the corner of imagination and invention, you will find a character known as Maseman. In an effort to elude reality, he lives in a world of his own, finding his way through endless cosmos and environments. Simple thoughts and ideas, conveyed through ink and paint, provide the viewer with a world in which to contemplate the intricacies of life.
In
Dreams Are Made of These
, Maseman and his fateful friends beckon to us by appealing to our emotional familiarity. Each character in Maseman's dreamland is a reminder of the vague nature of reality and the power of perception. Through this whimsical journey, he encounters a menagerie of inked identities and friends, who seemingly overcome obstacles with a shield of simple, humble satisfaction in mere existence.
If groovy and funky had a beautifully complex, dance-crazed lovechild, it would be divine justice, and it was.
This music
is the kind of stuff that … say you're sitting in bumper-to-bumper traffic in the desolate aftermath of an ice storm, and the entire world is frozen solid. If God played these tracks from his heavenly iPod, every creature on earth would break into dance. Hey all you beat boys and beat girls! You want to have a real party? Rock these jams at your next sock hop.
Dreams are Made of These
will be showing through the month of July.
Check out more Maseman
here
.
Like what you see? Send him a message
on myspace
.
Labels: Austin art, dreams, hideout, it was divine justice, Maseman