A Craving for Color
Artist
Christine Gray
crafted this colorful cuisine with layers of dried acrylic peeled from mixing trays. Tasty.
Seldom is there a weekend that art-minded Austinites quietly retreat to their eastside caves, faced with a famine of color and creativity. Luckily, in the first weekend of July, our great city did not disappoint, and we were blessed with a fun-filled feast of local happenings. With simultaneous opening receptions at two eastside galleries and a local joint with a long-awaited liquor license, my friends and I gorged on the plentiful offerings of our great city.
For starters, we swung by
Pump Project
to check out CHIRP! (a celebration), and oh it was. This scrumptious collection of work featured an impressive group of local art celebrities including
Travis Nichols
and
Matthew Rodriguez
among others. Feel free to
Flikr
for a taste of this goodness … if the spirit moves you.
We may have been appeteased by the chirpy cheerfulness, but greedy and gluttonous, we were hungry for more. Second Course?
Okay Mountain
–an LGC staple-–to nibble on the work of Santa Barbara based artist,
Christine Gray
.
Mingling among admirers at the opening of her show,
Mimeographic Spectrum
, the artist seemed to resemble the vibrant palette of her work. Clad in kelly green skinny denim, camel wedges and a purple sweater with over sized buttons, Gray–and her work–was anything but.
When I was in Santa Barbara a few weeks ago, the common fashionista style of choice appeared to be slinky mini dresses and clunky boots, so although Gray is currently a resident of Santa Barbara, the funky casualness of her Austin past was inescapable. Gray received her BFA from UT in 2003, and is now in the land of milk and honey, working on her MFA at UCSB.
The inspiration one receives from time spent in a city that smells of fresh flowers and farmers markets is not easily replicated. Though her personal fashion may not have immediately reflected it, her work bore semblance to the inspiration that few locales–other than peaceful life of an incomparable So Cal Mecca–can offer.
Her oil paintings were both breathtakingly beautiful and hauntingly chilling simultaneously. She refers to the oppositional ease of these images as 'empty fantasy landscapes.' Additionally, many of her pieces were crafted from recycled materials such as the cardboard structure below, which could, at first glance, be mistaken as a pile of leftovers from a careless industrial endeavor.
Mimeographic Spectrum will be up through August 4. I recommend it to anyone who enjoys color, happiness, care bears and rainbow bright.
Minds and bellies full from whimsies and Pacifico, we swung by the
Scoot Inn
in celebration of their newly obtained liquor license. For 130 some odd years, Austin locals have been scooting in to this eastside bier garten for their favorite tasty brew. Now I know people say that you shouldn't change a good thing, but I don't think they were talking about adding tequila. Thank you, Scooters, and long live the garten!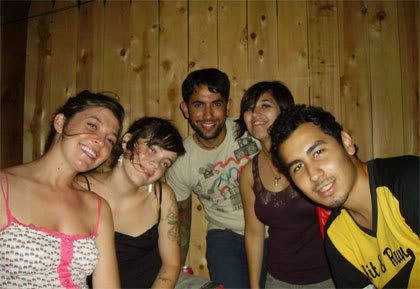 Labels: Austin art, Bier Garten, Christine Gray, Okay Mountain, pump project, Santa Barbara, Scoot Inn