Fur Balls and Folk Stars
I have been desperately trying to convince Mason that the sole thing we currently lack in our lives is the love of a furry feline friend, and I'm pulling out all the stops here. On May 5, I argued that it was
essential
that we celebrate 'Cinco de Meow' by selecting a cat from the local shelter. Now, it's coming on June, which (according to the ASPCA) is none other than
'Adopt-a-Shelter-Cat-Month.'
What better time than now, before the poor displaced fur balls are all picked over?
I believe that a compassionate higher being felt sympathetic towards my situation and appeased my longing with a sweet surprise. One morning, four precious flea-bitten feral kittens were huddled on our porch. They found me, and my honey turkey, my porch and my love, and they stayed in the refuge of our porch for several days.
These sweet kittens have me thinking about the "fraidy-cat" syndrome. I look endearingly at each stray kitten with harmless intentions. I want to pet it, love it, feed it and care for it, but when it sees me, I send it darting off in fear. I understand we are different – the kitty and me – but what about 'different' is frightening? Is it my size, shape, smell? What if it were not a cat, but someone of another culture, color, background, education? If we understood each other and could communicate how we cared for one another, what this friendship could offer and how we each could benefit from it, the world would be a kinder and more comfortable place. The world would have less fear.

Calling all landlords, tambourine men and rainy day women!
It is him, babe. This Sept. 14-16, I have a date with bobby d. The folk icon and master lyricist himself is set to headline this year's
Austin City Limits Festival
, and this three-day binge of Dylan and debauchery is not to be missed.
Thanks to an unbelievable family hook-up, I have been blessed with the opportunity to see Bob live and in person once before in New York (February 1998). I believe some of you may have caught it on television, most notably remembered in reference to 'soy bomb.'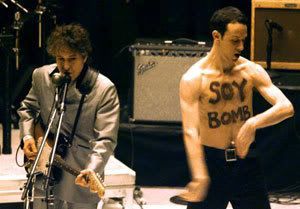 People will do just about anything to get next to Bob, and I can't blame them. Check out the
ACL lineup
and buy your 3-day pass before you've missed your chance. I'll be there. After all, missing Bob when he comes to town is like missing a free lecture by Jehovah. It's just wrong, sinful … bad for the soul.
Bob D – I'll Be Your Baby Tonight
Labels: ACL Festival, Bob Dylan, Kittens, Soy Bomb