A Modest Storm
In light of recent circumstances, I have begun to contemplate the meaning of 'Rain or Shine' in regards to event forecasting. Historically, the all-encompassing nature of this terminology has held true. At Woodstock, though no one could have expected it, the preemptive message could have included birth, miscarriage, nudity, massive mud and death – among other stipulations. A couple dry Central Texas summers ago, the thousands of squinting, coughing, bandanna-masked ACL festival goers, would have likely appreciated drought, dehydration and blinding dust storm added to the list of ticket-stamped conditions.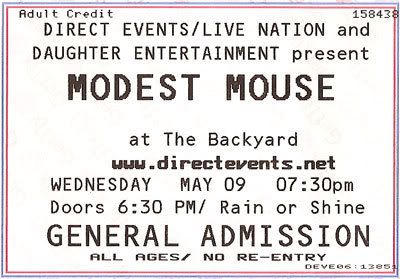 At the
Modest Mouse
concert May 9, I had the always-pleasant opportunity to see a great show with great friends. On this particular occasion, we drove down Hwy 71 through the Austin wine country on a lazy Wednesday afternoon to see a sold out show at
The Backyard
. The Backyard boasts of a 'natural, open-air setting enveloped in the shade of 400 year old live oaks with multi-tiered decks, fishponds and plaza areas that illuminate the magic of the amphitheater's atmosphere.' Though I didn't see any fishponds, what they did have was shitty parking and a full service bar. I'm a fan of any place you can watch a great live show and with a scotch and water in hand - fishponds or not.
It seemed like nothing could go wrong. Sure, the National Weather Service had issued a severe thunderstorm watch for most of Central Texas until 11p.m., and the local news posted a flash flood watch for the Hill Country through the night, but those guys are always guessing, and they had been striking out lately. Plus, there wasn't an ominous cloud in the sky, and it hadn't rained a drop all day.
In the hours that passed during our pre-show festivities, those fumbling meteorologists changed their story time and time again. While all these 'experts' were attempting to interpret their radar images and fancy satellite technology, my friends and I were enjoying track after track from the most recent
We Were Dead Before the Ship Even Sank
and swaying to the sweet sounds of former Smiths guitarist
Johnny Marr
who collaborated on the album. We would later discover, that by the time we were parking in a patchy field off 71, the forecast settled on a prediction:
"A line of thunderstorms is moving into the area from the west. The weather service says the storms are expected to reach the Austin area by 11 p.m."
Slowly a dark force became visible and slowly crept across the sky, closing all of us in darkness like a drawer of helpless figurines and with it came the rain. Sheets of rain waterfalled from the pavilion to the crowd below, and heavy winds shook the stage lighting and the oak trees surrounding all of us. 45 minutes or so into the set, front man Isaac Brock said simply, "Thanks to everybody for comin out tonight." At that, 5000 people from the sold-out show made a mass exodus for the doors.
Did I mention that the parking was less than ideal? A marathon of 5000 partied-out participants racing through a treacherous course of mud, rocks, construction and traffic to get to an unmarked field and attempt to find the oddly shaped tree landmark they parked their car by in the blinding drenching, flooding rain…
How I love concerts at outdoor pavilions and the inconsistent flash floods of Texas summers.
Modest Mouse – Missed the Boat
Modest Mouse – Dashboard
Labels: Flash Flood, Modest Mouse, The Backyard