Decalooney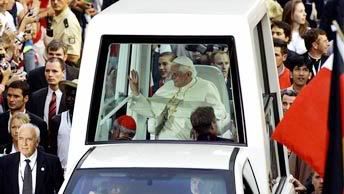 The pope and his posse have delivered a bizarre charge to the followers of the Catholic Church. This charge came in response to what is
obviously
the most profound crisis facing modern humanity: road rage and motor safety.
Just as Moses received a message from God to deliver the 10 commandments, the Pope also drafted a 36-page document written in old English asking believers to question what Jesus would do if he got behind the wheel.
Guidelines for the Pastoral Care of the Road
includes 10 'recommendations' including "Thou shalt not drive and drink," "thou shalt not make rude gestures behind the steering wheel" and also addresses prostitution in vehicles, referred to as the "occasion of sin."
Before such trivial worldly matters of rape, disease and genocide, Pope Benedict is gravely concerned with the personal warfare currently taking place on roads and highways across the globe. Rightfully so, after the recent attempted attack on his Popemobile.
Read about the Vatican's 'driving commandments'
here
.
Labels: Catholic, motor safety, Pope