Austin City Has No Limits
Every once in a while, something goes down in our infrequently sleepy town that makes me proud as hell to live in it. Though it may seem cliché, and a little overdone, the Austin City Limits Festival is one of my all-time favorite weekends of the year.
I know many an Austinite that turns their nose up at this mega-event, and to them I say, thank you. Thank you, elitist home-towners and 'Keep Austin Weird'ers. Thank you for your laughably controversial op-eds in the Chronicle and local blogs about anti-corporatism and unfavorable acoustics. Thank you for giving disgruntled cabbies a reason to complain about a profitable weekend of heavy business. And lastly, and definitely not leastly, thank you for not buying tickets, so that non-elitist festival-loving friends, old and new, from across the world have the opportunity to join in the fun. A Festivus for the rest of us, if you will. After all, if we're going to repair Texas' historically and politically preceding reputation, we have to start somewhere.
I, for one, had family and friends visiting for the event, and these out-of-towners left our great city exhausted and singing its praises. I also met a slew of like-minded ACLiens from all over the world (Linda, my new Canadian friend, wherever you are, rock on and I'll see you in Victoria BC). Thanks to LJ's excellent photographic skills, we were able to chronicle some of our fun.
Day 1
T.G.I.ACL
Though we managed to miss the unexplained 18-wheeler conflagration, we couldn't escape the heat. We did catch a little solace from the sultriness at the crowded entry gates (thanks to the cover of a friendly rain cloud) and a little of Peter Bjorn and John's set. Not a bad way to start a steamy day.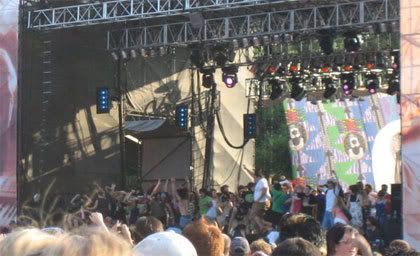 Possibly my favorite performance of the weekend came in the heat of the first day from the UK's M.I.A. Seemingly unphased by the Friday afternoon furnace, she talked about politics and partying, about war and Visas, invited half of the crowd to join her on stage, did the running man for about 48 8-counts, and put on a side splitting performance (no seriously, cheeseballs. She danced so hard that she split the pant seam of her fuchsia jumpsuit). I have never wanted so desperately to be in someone's posse as I do in hers.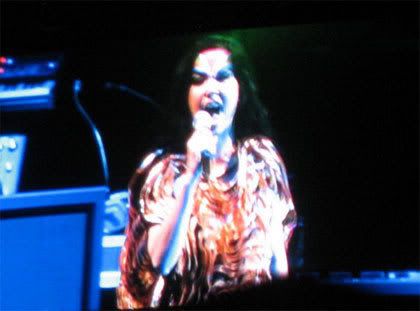 At the end of a long first day of festivaling, Bjork and her colorful cronies took the stage. Bouncing around the space in a state of emergency, this Icelandic icon brought the goods. I wish she had delivered more of her classics, but I'll settle with crazy costumes and confetti explosions.
Day 2
No Sleep 'Till Brooklyn
…And on the second day, God said, "Let there be a morning of bottomless mimosas with friends followed by another amazing day of music." Cold War Kids and Clap Your Hands, deliciously depressing Damien Rice, Stephen Marley stirring it up for the rebelution, and some of my favorite Canucks, Arcade Fire were some of the highlights under the scorching Saturday sun.
Andrew Bird was hands-down, kick everybody's ass, one of my favorite acts. I've been lovin' Drew for some time, not only because he's on Ani's Righteous Babe label, but because he whistles like a Disney movie and is one of the most inventive musicians/lyricists of our generation. He came in style, no doubt, rockin' the v-neck and rad neon green shades.

Day 3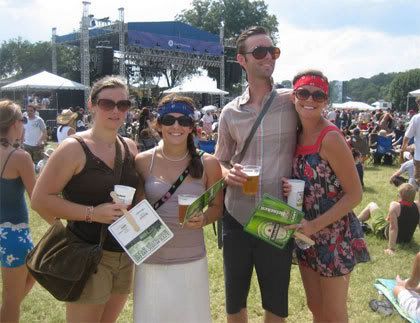 Sunday Funday
Day three, the troops and I came to play.
Geared
Beered up and ready to rock, we walked to DeVotchKa to catch a chick rockin the tuba. I love Midlake, and apparently other people love Midlake. One dude loves them
so
much that he decided to propose in the middle of their set. He actually said
be my Young Bride
which was endearing and disgusting at the same time. I mean ... I am, we are, all very happy for them. Congrats you two.
Bloc Party was rockin. Regina Spektor is not, I repeat
not
this generation's Tori Amos. Amos Lee sounds the way soul food tastes. Jeff Tweedy is on my hero list, and I could watch Wilco for days. It's Wilco.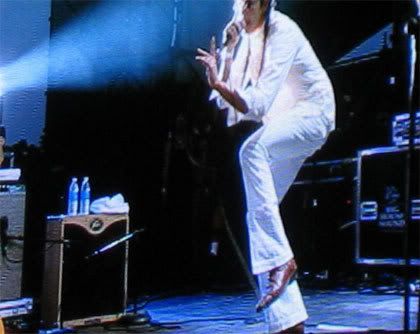 Ghostland Observatory is this strange little collaboration of two funky children with one huge beat. I want to carry them around with me wherever I go. Not like pet rock style. You know what I mean. Definitely bringing the energy.
As for Mr. Robert Dylan, all I can say is that he is f***ing Bob Dylan. No, he didn't sound like a young songbird in spring, but he's old, people, and he's lived a life of spilling his heart and soul out day after Dylan-loving day. I mean come on, has anyone been to a Willie show lately? These things happen to people. Anyway, the point is that I love Bobby D, and it was good to have him there.
It has to be said, that the person that first played ol' Bob (and Joni, and James…) for me is my mum. She was there watching Bob too, and time has never felt so real.
Dear ACL,

I love you. Until next year…

Love, Me
Labels: ACL Festival, andrew bird, Austin, Bob Dylan, Canada, festivus, ghostland, M.I.A., Midlake, mom