Moms and Bobs
If there were 12,000 months in a year, my mother would deserve to be celebrated in each day of every one. So, being the officially deemed and nationally observed Mother's day and all, I figured I should make a trip down to Houston so that she could see my face, and be reminded of the constant adoration I have for her that is written all over it every time I see her. I brought Kate along with me for this celebration of mothers, as Kate's mum, Lynn, is in Susanville, CA (not a simple weekend destination), and mine considers her a surrogate daughter. It was a beautiful and memorable weekend.
Be it known that my mother and her mother are far from any archetypal mommy-type. She's my rock, yes, and my compass, and sometimes my disciplinary and therapist, but she is in all honesty my best friend. In fact, she refers to our relationship as "junior and senior roommates"—a term of endearment rather than of residency. I'm not sure what other 25-year-old women and their mothers do to spend time together, and I'm sure there's a vast array of mother-daughter relationship types, all individual in their own right, but if there were any normalcy that existed in these types of things, I'm quite sure that we don't qualify.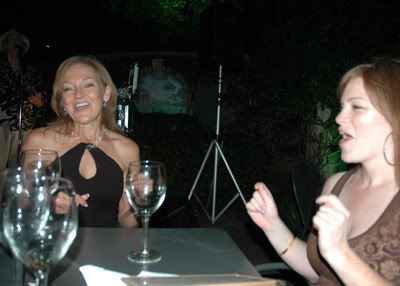 When we're together, she wears her pearls and I my tie-die skirt, and we get in her fancy little sports-suspension bmw and jam out to CSNY, Devendra Banhart, Van Morrison, Great Lake Swimmers, Dylan and Joni from any one of the countless musical compilations I send to her regularly in their painted packages … that she saves, as if she could ever have a use for them again, or believes they are truly pieces of art that will gain emotional and memorable value with time. I guess it's that macaroni necklace syndrome that only mothers understand.
Every time I'm about to come see her she asks the same questions: "What kind of beer are you drinking these days?" (She's not necessarily a beer drinker, but deeply respects my love for the craft.) and "Are there any shows you want to catch while you're here?" (She will have already checked out local listings and give me the lowdown on the Houston venue scene for that given weekend.)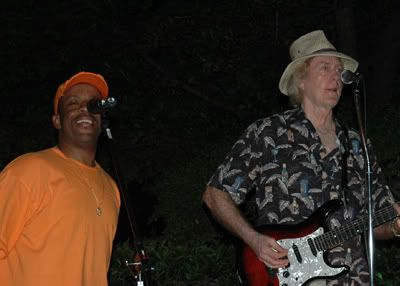 One of my funniest memories is a couple years back when she bought us NIN tickets, obviously without a clue of what to expect. However, to her credit, she held her own in her pale pink camisole and endured the hardcore, rambunctious fan base. Earlier this year she even requested we see Marilyn Manson at Verizon … But only if I thought I would enjoy it, of course, but she was just throwing it out there because she was sure that I would think it would be quite an experience. Well, didn't I?
I alerted her when Aimee Mann came to Houston a while back, but something came up and I couldn't make it at the last minute, so this amazing woman went by herself to the show. And bought me a CD. I'll get calls from her while she sits a few rows from Ryan Adams and delivers her commentary about his performance.
Obviously, she's fantastic.
Together we go to dive bars, museums, rodeos, dance lessons, live shows, thrift stores, funk clubs, fancy Italian restaurants, and seedy country western dance halls, but one of my mom's happiest places is by the water. Just ask her. The sound, the salty aroma of the Gulf waters, the spirit of the sun-drenched surroundings …
There's this wild solidarity about time spent by the never-ending ocean. Whether you've found yourself in the swell surroundings of a family-filled diaper-clad holiday weekend at an umbrella-dotted public beach, or perched on the farthest point of a fisherman's jetty blinded by the salty breeze, or sitting on the dock of the bay joined only by your favorite book … just one long look out to where the water meets the sky miles out of merely estimated miles has always been able to take me to a place that is so remarkably personal. It may be the feeling of being so insignificant in the face of such a grand, vast, powerful body of water and life, or just the sheer bliss from an ocean breeze brushing your sun-kissed cheeks.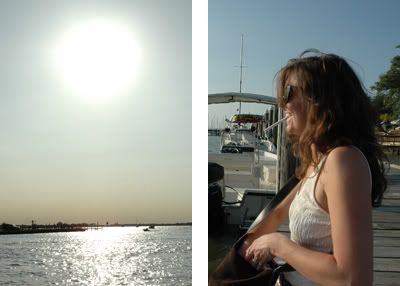 So as one can assume, we went down to the Gulf's bay to celebrate her fabulous motherhood. We ate crab, shrimp, pineapple and snapper, drank my favorite Jamaican lager and Bloody Maria's (that's tequila with some Tabasco and tomato for flavor), browned our skin, swang on porchswings, dipped our toes in the beautiful chilly blueness, listened to a great live couple who played a bunch of folk jams, reggae, and Townes Van Zandt covers/renditions, tap danced in our heads to the rhythmic shucking of fresh oysters (well I did, at least), waved at the fisherman, witnessed a breathtaking bay sunset, and contently contemplated life's complexities.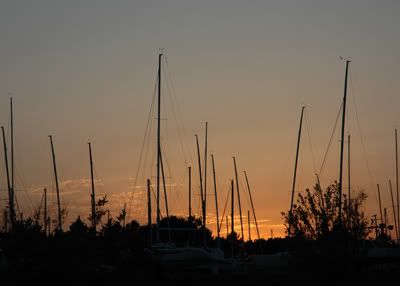 My sweet mother is so incredibly beautiful, and I am so incredibly lucky to be hers. Happy Mother's Day for 12,000 months and more to every mom out there. You fools amaze me.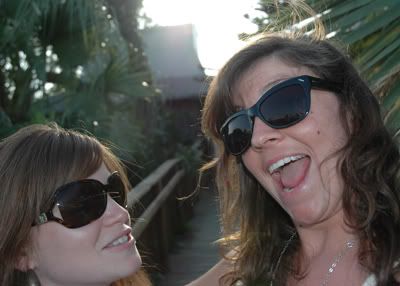 Also—and entirely off subject—if you haven't heard the Andrew Bird cover of Dylan's "Oh Sister" you most definitely should. I kind of despise Dylan covers. This one is perfect. Plus, Dylan turns 67 on Saturday. Cheers, Bob.
Labels: Aimee Mann, andrew bird, Bob Dylan, Gulf, Marilyn Manson, mother's day, NIN, Oh Sister, Oyster