mudbug madness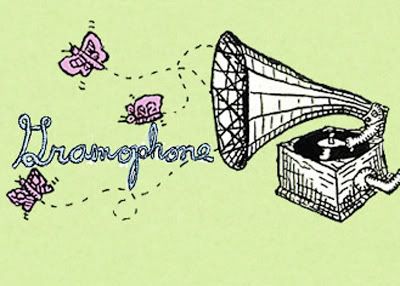 I mentioned
You Ain't No Picasso
a couple weeks ago, and I think it only fair to give some props to the most marvelous masterpiece of a music blog ever created. Several years ago a good friend directed me to the three-man, highly Canadian, indie-focused music (mostly), art, and culture webeauty that is
Said the Gramophone
. Since, I believe I've visited this hideaway at least six out of the seven long days in every week. It never gets old.
I have always silently appreciated what StG brings to the music-loving, word-adoring, blog-reading world. Specifically mine. I admire the way they review an album like a place. A feeling. Those guys have an uncanny ability to creatively bridge a song's colors and shapes so much so that the song becomes tangible. A song suddenly becomes the warmth of the sun creeping through nature's shade onto my warm, smile-sore cheeks. Or as if I'm 350 miles off the coast and just awoke to find myself bobbing recklessly in the wake. But I'm comfortable. Or frantic. Lonely. Content. Invigorated.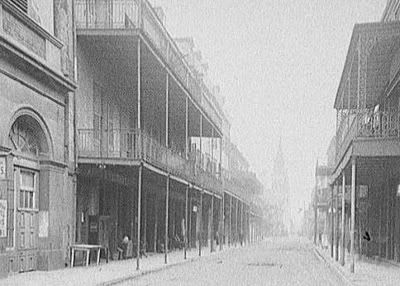 People have mastered this before, true. Many before us have proven their ability to make a review of Louis Armstrong's
Potato Head Blues
sound like a sweltering, filthy stroll through the olden-times streets of the French Quarter. But the challenge that the gramophone guys have tackled carries much greater complexity. In their reviews I'm actually strolling to the rhythmic scrape of a washboard, and I'm looking at the thin man's sweat-beaded face, playing it for passerby's nickels. There are others on the street with me, carrying overstuffed shopping bags. Smoking cheap cigars. They are colorful and each have their own heart-wrenchingly devastating stories, but no one's talking today. It's too hot. I'm smiling at them. Some are smiling back at me. Some only with their eyes. The setting sun is blinding me, but I'm unconcerned. My belly is full of crawfish etouffee, soft-shell crab po-boys and oysters contraband. The remoulade is still on my face and the creole still under may nails.
It's an amazingly lovely thing they do over there on their little green weblog, I suggest you pay them a
visit
.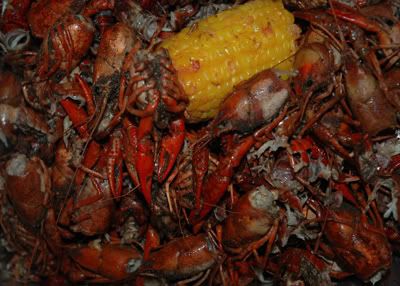 Speaking of crawfish, I've been craving those critters all season. Seeing as the season's almost up, last week I enlisted my foodie friends to scout out the best crawfish and local Cajun scene in the Austin area (besides Evangeline, which for some bizarre reason doesn't sell those suckers by the pound). A few days later, we we're at
this crazy little BYOB dive
off Spicewood Springs and 183, getting nasty on some creole crayfish.
Just so we're clear on things … I'm not too old or too cool to play with my food. And don't judge me, because you aren't either. I mean you may be old, and probably cool, but I certainly don't believe that either of those things in any degree have anything to do with playing with your food—or refraining from such activities.
Crawfish are playful creatures. They're lifeless, yes, but so are dolls [creepy or otherwise], and each of us—blue and pink—played with those in our age of youth and innocence, before awareness of social stigma or etiquette adherence. Now I'm not saying we took these suckers out to the abandoned lot with a paper towel cylinder and went 6 innings with em. We just shook them around a little and gave them ridiculous voices. Named them. You know, typical crawfish-eating activities. We had a very diverse gang of blood-red bottom feeder buddies. Hanz, Lefty, Juliet, Lieutenant Dan, the Reverend Al Sharpton …
I think that one was Simon. [Not the guy with the wind wood. I didn't get his name.]
I guess SamBet's draws some serious stray cats. One guy offered us a free basket of mudbugs, asked if he could join us, pulled up a huge cooler to sit on—but before he did, opened it to offer us some Jameson whiskey which he presented a nearly consumed bottle of—slurred and struggled to focus his vision, asked each of us if we owned a vehicle because he would detail them for a good price. What price, he couldn't say. He'd surely go to your car and give you a quote, though. Where are you parked? Did you drive? He owns a detail place 'right down the way.' ... I'm telling you. Cruisers.
And check these guys out. I don't know why they pointed, and I'm reasonably sure they hollered something, but I'm not sure what. Lucky for us, "Could Have Been Anything" is one of my favorite games to play. Here's how it goes: Look at the picture, and pretend they're saying anything.
Candid Camera! Celtics Suck! Zero Down, Zero Percent Financing! I'm Goin to Disneyland! Nickelback Rules!
… See? Fun, right?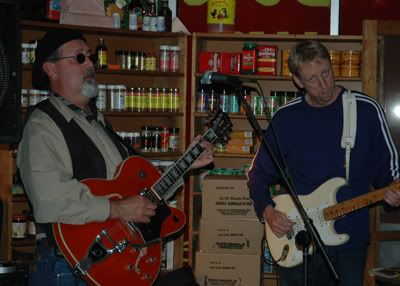 This little joint was a trip. It shares a strip mall with a huge Asian Market and a super shady looking hardware store, in front of which gathered pretty much the only cars in the lot. Ryan says the hardware bodega is known for crooked under-the-table transactions like selling glocks, conspiring against the evil regime, burning files, hating those fuckin pig cops, and other things that sound completely crazy. Ryan knows these things. None of us know why or how, but I've fact-checked his crazy claims many-a-time to find they're completely legit. Did you know that red bull is made from synthetic bull urine?
That's our waitress, and the back of the owner's head. Doug is his name. He is really something else. He came out, sat down. Looked at us all crazy-like. We introduced ourselves. Said nice things about the place. He told us that his cat had croaked earlier that day. I hugged him. More than once. Poor crazy Doug may not have had a hug in a long time. I would like to believe that I needed crawfish and Doug needed a hug, and somehow, everyone always gets what we really need.
If you're feelin the need for some good crawfish eatin, the Alamo is
doing a boil up
in full style this weekend. Get after it.
Labels: Alamo drafthouse, BYOB, crawfish, Louis Armstrong, mudbugs, New Orleans, Said the Gramophone, Sambet's